70 Years: Never Again — Hiroshima & Nagasaki Week in Massachusetts
Wed August 5, 2015 @ 7:00 pm

-

Sun August 9, 2015 @ 5:00 pm

EDT
August 5-9, 2015
From Aquinnah to Amherst, Fall River to Watertown, and Waltham to Boston, Massachusetts residents will commemorate the 70th anniversary of the United States atomic bombing of Hiroshima and Nagasaki, and raise the call:  Never Again!  Abolish Nuclear Weapons Now!  
45 years after the entry into force of the Nuclear Non-Proliferation Treaty, the 9 nuclear weapons states have not acted on  their solemn commitment to enter into serious negotiations to abolish nuclear weapons.  Join Massachusetts Peace Action, peace groups, people of faith, youth, community groups, and all people who care about the future of humanity at events across Massachusetts on or about August 5-9 to call attention to the people's demand for nuclear disarmament.  Attend one of the following events, or organize your own!
Hiroshima/Nagasaki Week in Massachusetts: Events Announced to Date
May 28 to August 5, Cambridge: 70 Days for Peace vigil at University Lutheran, 66 Winthrop St, 7:00 pm to 7:16 pm. An indoor commemoration will follow the final vigil on August 5 at 7:30 pm.
July 29, Cambridge: Nuclear Savage: The Islands of Secret Project 4.1: Screening and discussion. An exposé of the U.S. H-bomb tests on the Marshall Islands in the 1950s and their tragic effects on the Marshall Islanders, which continue to this day. First Church in Cambridge, 11 Garden St, 7pm.
August 2, Boston: Hiroshima/Nagasaki Remembrance Day on George's Island.  Community Church of Boston.  Gather at Long Wharf North Pier (what time?)   Contact Dick Crowley, (617) 869-3014.
August 4-9, Leverett, Concord, Lexington, Arlington, Boston, Amherst, and Northampton: Abolish War: Let Us Walk Together. Hearing the Cry of Survivors of Hiroshima and Nagasaki.  Peace Walk.
August 5, Cambridge: Hiroshima and Nagasaki are Still With Us.  Prayers, reflections, music, viewing of images of the devastation of Hiroshima and Nagasaki and of the Hibaku Maria, a statue of Mary that was damaged in, but survived, the atomic bombing in Nagasaki's Catholic cathedral.  University Lutheran Church, 66 Winthrop St, after the final vigil, 7:30pm.
August 6, Martha's Vineyard: Memorial Vigil for the Victims of Hiroshima and an affirmation of the global consciousness preventing further nuclear bomb attacks. We welcome participants to share music, poetry and dance to deepen our time together. Martha's Vineyard Peace Council, Sarah and Bruce Nevin, 508-627-8536 or email sarahnevin@gmail.com.  Aquinnah Light House yard, Gay Head Light, sunrise, 5:43 am. 
August 6, Waltham: Vigil, Waltham Concerned Citizens.   Info: 781-893-0361 or info@walthamconcernedcitizens.org. Waltham Common, Main and Moody Streets, 7:45 to 8:30 a.m. 

August 6, Boston: 
Boston Remembers Hiroshima and Nagasaki
. Procession and outdoor commemoration. Leverett Peace Pagoda walkers; talks by Elaine Scarry, Fumi Inoue, David Rothauser, Peter Moyer, Rashin Khosravibavandpouri, Guntram Mueller; songs by Anne Goodwin; Soran Bushi dancers; koto by Akino and Yoshino Watanabe. Gather at 3pm at First Church of Boston, 66 Marlborough St; procession through Public Garden to Copley Square, ending at 5:30pm.
August 6, Fall River: Vigil to mark the 70th anniversary of the boming of Hiroshima. Quequechan Peace Alliance and Greater Fall River Committee for Peace and Justice.  Contact Steve Camara, 508-678-1463, Rev. James Hornsby, 508-672-6607, or Judith Conrad, judithconrad@mindspring.com. Government Center, 4-6pm.
August 6, Falmouth: Gathering in Silence to remember the victims of our bombing of Hiroshima.  Bring signs. Falmouth Village Green, 5pm. 
August 6, Cambridge:
Collaborative reading of Thomas Merton's
"
Original Child Bomb
" and then floating candle boats on the Charles. Cambridge Friends Meeting, 5 Longfellow Park, 7pm.
August 6, Andover: Vigil, Old Town Hall, 20 Main St.  Merrimack Valley People for Peace, 7 pm to 8pm.
August 7, Walpole: Peace Vigil: Hiroshima & Nagasaki: 70 Years – Never Again.  Readings, observance and reflection. Walpole Peace & Justice Group, Walpole Common, Main & West Streets, 5:30 to 6:30 pm.
August 7, Boston: Concert in Observance of the Hiroshima and Nagasaki Bombings. An opportunity to gather, reflect, and meditate on the atomic bombings of August 6th and 9th, 1945 using the healing power of music, community, and our wonderfully enduring cultures. Church of the Advent, 30 Brimmer St, 8pm.
August 8, Leverett: The New Hibakusha, world premiere of a new documentary by Jesse Barret Mills. Told from the perspective of both survivors and experts, The New Hibakusha looks at the impact of Japan's Fukushima nuclear disaster in a country still coping with the legacy of the first atomic bombing.  New England Peace Pagoda, 100 Cave Hill Rd., 7pm.
August 9, Amherst: Community Peace Gathering for the 70th Anniversary of the bombings of Hiroshima and Nagasaki.  There will be songs for all to sing, perspectives on peace and prayers for peace. Sponsored by Peacebuilders of First Church Amherst and Grace Church Peace Fellowship.  All welcome. The monks and nuns of the Leverett Peace Pagoda will depart from this gathering for a prayer walk for peace  from Amherst to Northampton. First Congregational Church lawn, 165 Main Street, 1 pm to 2 pm.  
August 9th, Watertown: Remembering Hiroshima and Nagasaki – Building a Nuclear Free World.   Watertown Citizens for Peace, Justice and the Environment.  Film followed by vigil, testimonials and candle boat launch at Charles River Dock, Watertown Square.  Grace Vision Church, 80 Mt. Auburn St., 5:30pm
August 9, Cambridge: Peace & Planet Poetry & Art Night.  Youth-led event at Out of the Blue Too Art Gallery, 541 Massachusetts Avenue, 6pm.
August 9, Northampton: Hiroshima and Nagasaki 70th Remembrance. Readings and a talk by Dr. Andrew Larkin, Smith College, McConnell Hall 103, 7pm; candle-light floating ceremony with members of the Leverett Peace Pagoda, Boathouse on Paradise Pond, 8pm.   American Friends Service Committee of Western Massachusetts.
Churches will ring their bells or hold other observances at 7:16 pm on August 5, the exact anniversary of the A-bomb.  The bells rung by Harvard University's Lowell House on April 26 as part
of the Global Wave provide inspiration.   See more on the faith-based plans for Hiroshima/Nagasaki Week.
Sign our petition to President Obama to take action on de-alerting, no first use, global negotiations, and stopping nuclear weapons modernization.  Help us circulate it; it is available online or in paper form.
Send information on your events to info@masspeaceaction.org or submit them here.  We will publish a calendar of events across the state so that all people who seek a peaceful world will know that they are not alone!
No more Hiroshimas! No more Nagasakis!
70 Years – Never Again! Abolish Nuclear Weapons!
Yes to the Iran Nuclear Agreement!
Convene the Middle East WMD Free Zone Conference!
Stop Modernizing the US Nuclear Arsenal!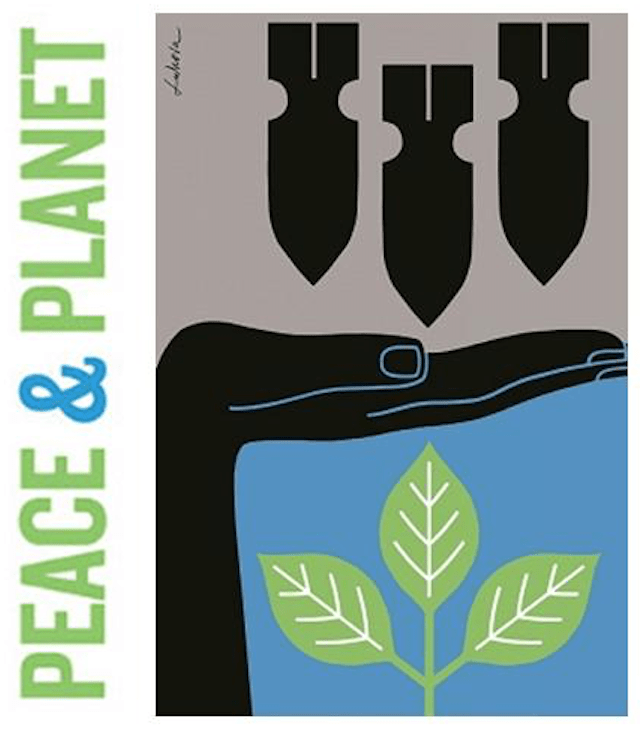 Read the Call to Action for Peace & Planet Summer.
The Peace & Planet mobilization for a Nuclear-Free, Peaceful, Just and Sustainable World brought thousands of people from many countries to the streets of New York on April 26, and the Global Wave held over 100 actions around the world calling on governments to eliminate nuclear weapons before they eliminate us.   Now, let's take the next step and raise our voices on August 5-9!
Join us!  Contact 617-354-2169 or info@masspeaceaction.org to connect and exchange ideas.  
– Massachusetts Peace Action and American Friends Service Committee
Related Events